Grow

your mobile
app company📱
We help Mobile Apps 2-10x their monthly revenue/downloads
How?
There are only 2 ways to grow your app company:


1. Get More Users (Downloads)
2. Increase Revenue Per User
1. Getting More Users
Getting and retaining users is not luck, its a science.
Organic Traffic ASO - App Store Optimization. 65% of app downloads come from app store search. We'll optimize your app store page to get free organic downloads.

Paid Ads - Social media ads, Apple/Google Search ads, Ad networks, etc. If you can get your user acquisition costs lower than your revenue per user, you can scale your marketing efforts. Most developers are severely overpaying for their users.

Retention - Decrease your churn rate by setting up push notifications and call backs. We'll aim to increase your day 6 retention rates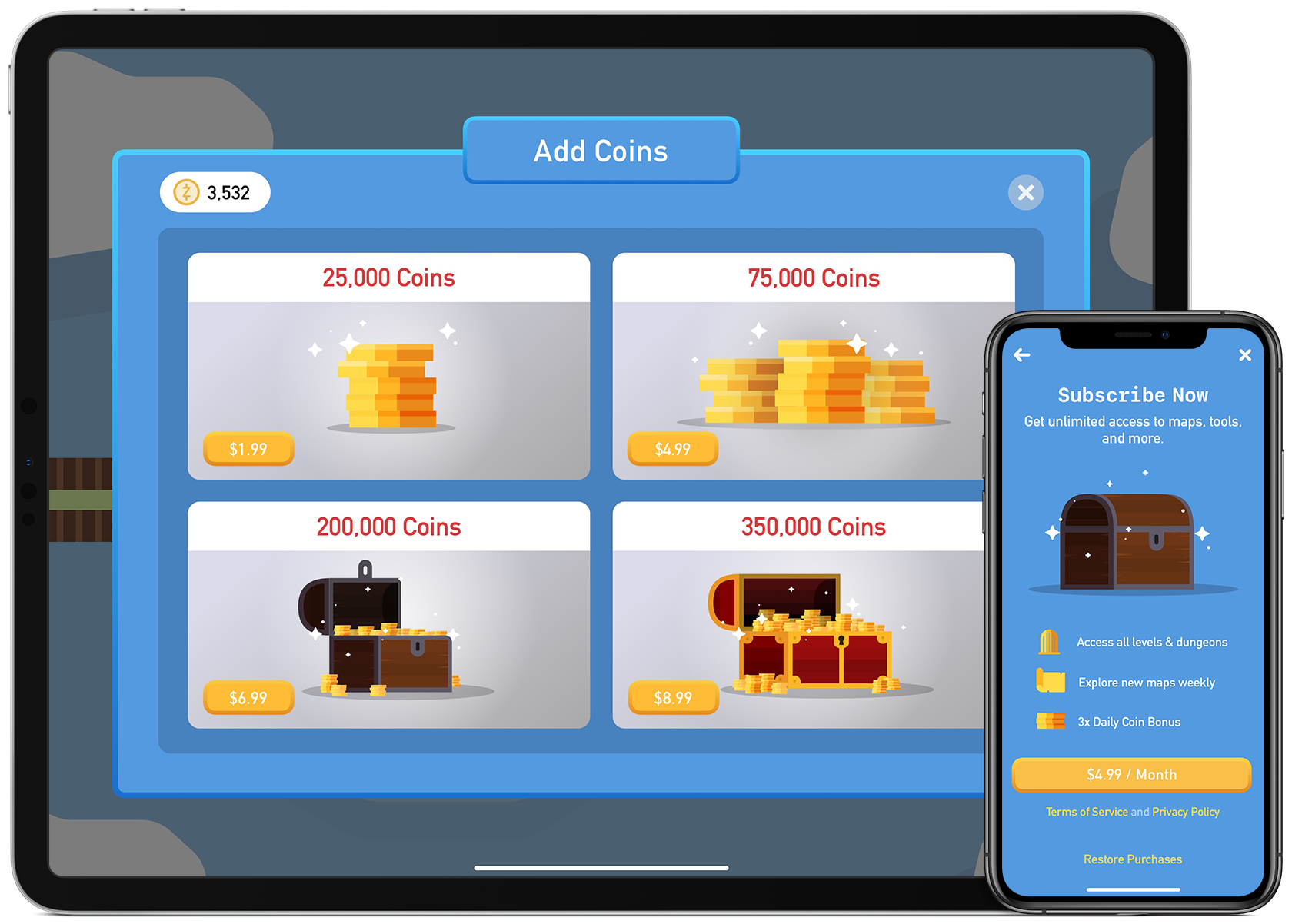 2. Increasing Revenue Per User
Most App Companies fail to make money not because they can't, but because they don't know how
Consulting - We'll go through what to change in terms of pricing strategy. Should you run ads? Should you do subscriptions? Should you partner with brands or do physical products? Apply today for a free consultation.

Testing - AB testing is the way to go. Small changes in apps can be the different between a 5 figure app or an 8 figure one. We can provide UI/Code bases that you can plug and play as well.
Growing a Mobile App isn't luck,
it's a science.
Optimizing your app store page & ranking for keywords is how you get organic downloads for free.Focus on the app, we'll get your users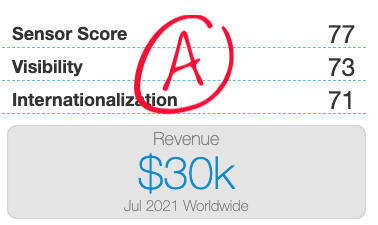 Analyzing Competitors
We are subscribed to expensive software that tracks all the data of all the apps on the app store. Using this data we can give you an estimate on how much revenue/users you can expect per month.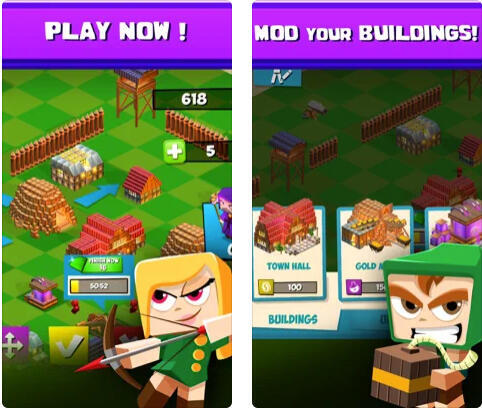 Screenshots
Apple allows AB testing for keywords. We will increase your impressions and conversion rates by testing screenshots. Colors/designs/etc.
(It takes a week for Apple to report a full test)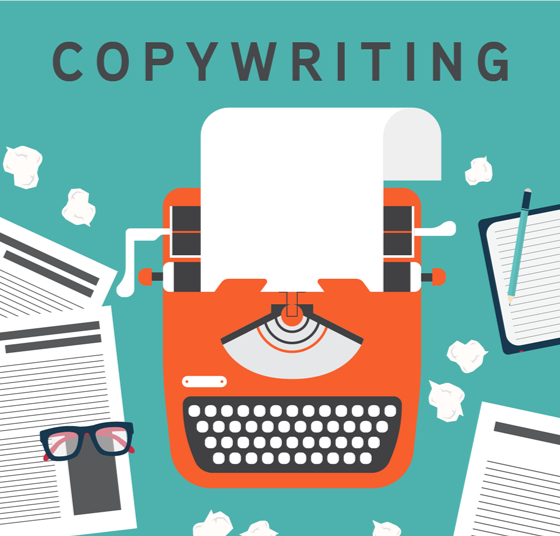 Written Copy
Did you know testing your Title, Subtitle, subscriptions, all affect the way Apple and Android rank your app? We can write and test these for you.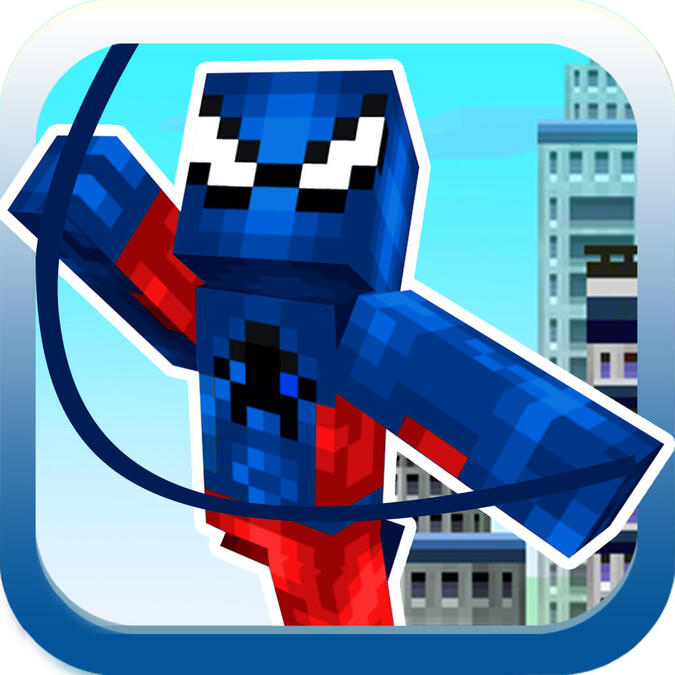 App Icon/Logo
We can create and optimize your icon. We have a team of designers that can create or edit logos/icons for you.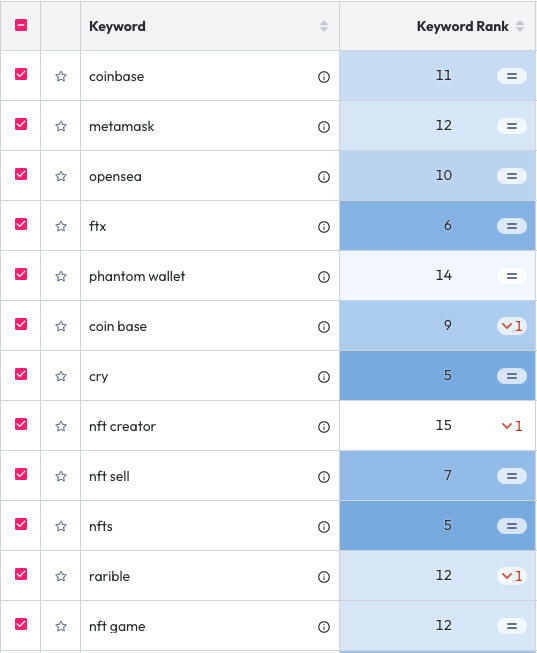 Ranking Keywords
Most paid ad campaigns don't sustain because of the lack of keyword and organic ranking of the app. We can help you achieve that so your paid marketing efforts don't go to waste.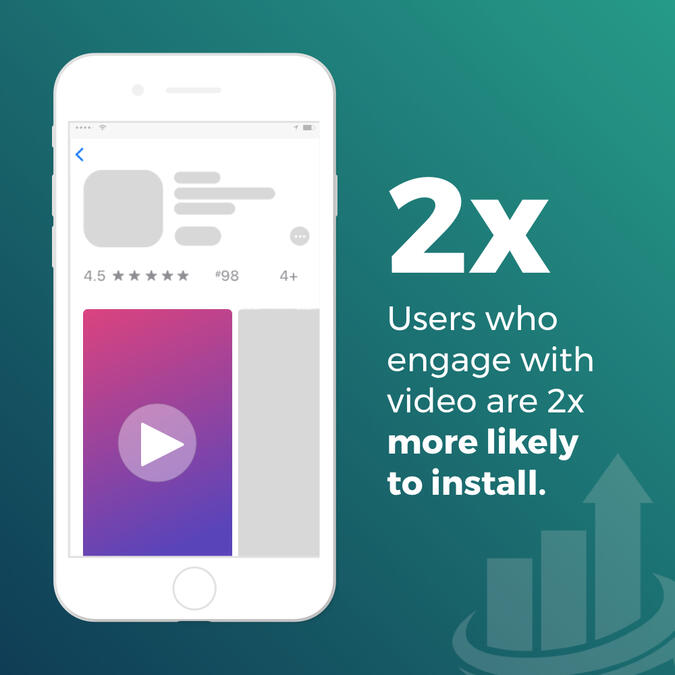 App Video Previews
We can create and test video previews for you. Video previews have been proven to increase organic downloads.
Mobile App Business Calculator:
Fill in the calculator below to see your current metrics.
Apps are a business, treat it as such.
CASE STUDIES
Case Studies/Testimonials
Helped grow monthly revenue for Lifestyle App $10k+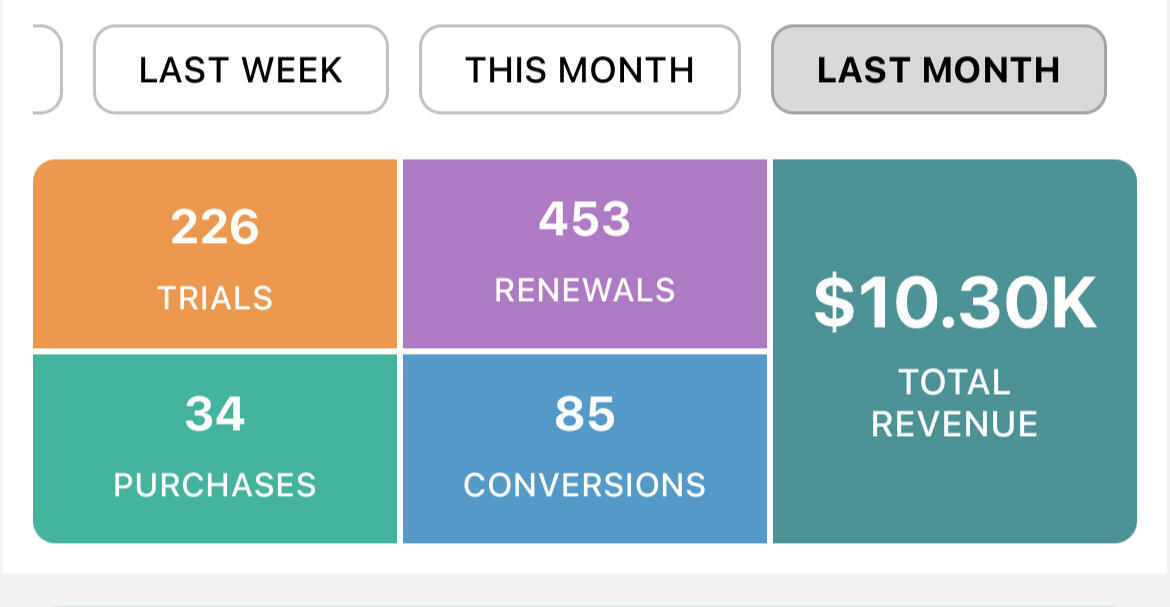 Helped twitter user grow his revenue

Helped App founder grow to $100k+ ARR


Helped grow monthly revenue for client from 2k MRR to 8k MRR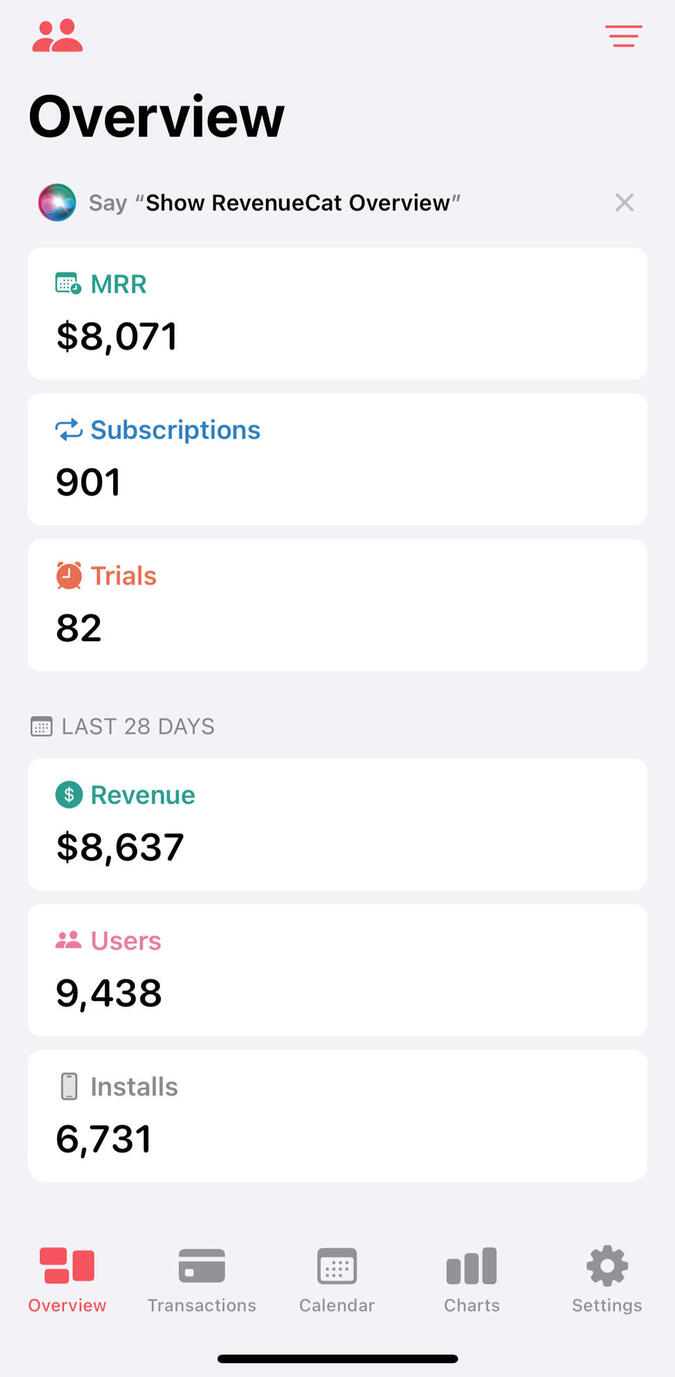 Helped apps rank for high traffic ASO keywords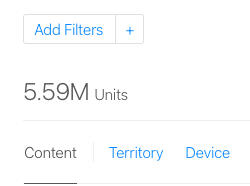 Helped an apps campaign reach top 20 in the entertainment category
FULL APP AUDIT ONLY
$997
One Time (Takes 7 Days)
---
iOS/Android App Testing

App Store Optimization Audit

User Acquisition Consulting

Monetization Strategy Consulting

Deep Competitor Analysis (How they are getting downloads, how much revenue they get & more)

30, 60, 90, 120 Day Action Step Plans
PRO POPULAR
$6k
Monthly
---
Everything in Starter

We'll optimize Your Icon

We'll optimize your screenshots

We'll optimize your keywords

We'll optimize your in-app purchase screen

App Keyword Rankings Tracking (1 Month)

Weekly Reports (email, slack, etc)
HERO (Growth Partner)
Enterprise
Custom Deal Structure
---
Everything in Starter Plan

Everything in Pro Plan

Organic Influencer (Social Media) Strategy

Paid Ads Strategy
Fill out your info and we'll get back to you as soon as possible!

FAQ
Frequently Asked Questions
How does the audit work?
1. We'll do a full audit of your app. We'll see your current monthly download and revenue stats. We'll go over the ASO (App Store optimization), as well as things you can do to improve it2. We'll send you over a proposal on realistic goals and timelines you can hit.
How does the pro plan work?
We do what the audit was for you. Its a done for you service. We try and hit the benchmarks we aim for
How does the hero plan work?
For enterprise clients, for custom deals. Please book a call for more info
Will my specific app grow?
We've worked with all types of apps but we've seen the best results with:Games, Social media, Utility, Finance, Health/Fitness, Entertainment and Viral Apps.Apply today to see if you app has potential to scale!
What platforms do you guys work with?
We work for iOS and Android exclusively.All you have to do is send us your app link.If you guys don't have a live link yet, send us a testflight link or apk package
What can I expect?
We aim to have every app we work with hit 5-6 figure monthly revenue markers.However, if we don't we guarantee to at least double whatever revenue/downloads you're getting
Will I Get Support?
Yes!We usually set up email/text/call but some companies use other forms of communication.We also do:
Discord
Slack
Google
Monday
TrelloPlease let us know if you prefer to communicate another way.
Why are you guys priced that way?
We have been working on apps since 2014 amassing millions of downloads for our own personal apps as well as our clients.We also prioritize 2 things: Speed and communication.We work quick and efficiently.
Do you have proof of work/case studies?
Yes!Please contact us today and we can send a list of companies and case studies in your industry we have scaled.
What happens if our apps don't grow?
We are VERY selective in the mobile apps we choose to work with.We won't work with apps that we can't get to 5-6 figures a month.We also set realistic goals and monthly benchmarks.Please apply today to see if your app fits!